FAQs
For any support related to site and subscriptions please send us ticket here
1. On your Dashboard page, click "Your Podcast" on the option tab to go to see your podcast and to copy your RSS feed (example below)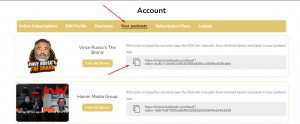 2. Paste the feed into your podcast app
3. There are many podcast apps that accept private RSS feeds, and all have their own way of adding a feed.  A few popular ones and their steps to add are listed below (subject to change based on app provider's updates). If yours is not listed, follow the instructions from the app provider.
Apple:
1. Click the Library icon (bottom of the screen).
2. Click the "Edit" link in the upper-right hand corner.
3. Click "Add a Podcast by URL."
4. Paste in the podcast's RSS feed.
Playapod:
1. Click "My Subscriptions"
2. Click the "+" button on bottom right of screen
3. Paste your RSS feed
Podbean:
1. Click "Following" on the bottom
2. Click "Add Feed URL"
3. Paste your feed and click done
Podcast Addict:
1. On the podcasts tab, click "+" in the top right
2. Click the orange "RSS" button
3. Paste your feed in the top line and click "add"
Google Podcasts:
1. On the bottom of the app, click "Activity"
2. Click "Subscriptions"
3. On top right, click the three dots
4. Click "Add by RSS feed"
5. Paste your feed and hit subscribe
Once you access your Account, click "Active subscriptions" on the options tab.  This page will all your subscriptions and their status,  To cancel click on cancel button.